This website contains affiliate links. Full disclosure.
Since launching this blog a year ago, I've learned so much about the world of blogging and running an online business. I never imagined that there was so much to know and understand if I wanted to get my blog out there for people to find. One of the questions I get asked occasionally is how to set up a blog so someone can get started with writing. There is so much information out there, and it's easily overwhelming for those of you that may not have any prior blogging experience, but really want to get started. Trial and error is a great way to learn, but it takes much longer. But the good news is that it's not as overwhelming as it seems, and I can help you get through the startup process much quicker since I've already done all the trial and error! So I decided to create a list for starting a blog in 10 easy steps to help y'all through this process.
Starting a Blog in 10 Easy Steps
Step 1: Figure out what you're going to write about
If you already know what you're going to focus on, then you're already a step ahead! But if you haven't narrowed it down yet, you definitely want to take this time to do so. Ask yourself these questions:
What do you have experience in? What can you offer your readers?
What are you passionate about?
Who do you want your audience to be? (Stay at home moms, working moms, divorced parents, marketers, business people religious people, DIYers, etc.)
Where do you want the blog to take you? Will it be something just to share with family about the ins and outs of your day, or do you want to start a business with it and make money?
Do you love writing?
The last one may seem silly to you, because blog posts are generally not that long. But hear me out- the individual posts may not be very long, but if you want to make a successful blog, you will be writing. All. The. Time. It's not something you can just start doing and become successful with overnight, it takes a long time to get things together and build up content. So make sure you love writing, or you're not going to enjoy blogging.
Step 2: Pick your blog name
Your blog name needs to describe you, your blog, or your content. Now, my blog name has nothing to do with my content most of the time, but it describes me as a person. Plus, it was really catchy and easy to remember, so I decided to stick with it.
Make sure that you don't do alternative spellings (centz instead of cents) or anything like that, because it'll make it much more difficult for people to find you.
Check Your Availability Below!
Once you pick a name, go to a domain search engine like Dreamhost or Bluehost to figure out if your domain is available.
One thing that you're going to want to do is register your domain (www.blogname.com) and others that are similar to it. You don't want to end up with someone buying close domains and competing with you, because this could be a copyright issue, and could cost you some money to fight in court. Just buy all the similar domains upfront and save yourself the trouble.
Step 3: Choose your web host & platform
There are a few different options for hosting, but Dreamhost or Bluehost are the most popular. Bluehost is very easy to use with WordPress, and I've heard great things about it. We use Dreamhost because my husband is a software engineer and he likes them better. (For a LIMITED TIME, get $25 off of your DREAMHOST registration!) When computer things are involved, I don't question his decisions! They are both very reputable companies though, and either would be a great decision for your hosting. Sign up for an account and register your domain.
As far as blogging platforms go, the biggest ones are probably Blogger and WordPress. If you're not wanting to build a business out of your blog, then you can go with a 100% free platform like Blogger. However, if you want to build a business, I highly suggest WordPress. It's much more customizable and doesn't have rules and limits on ad space like Blogger. Also, it has much higher security than Blogger does, since Blogger is owned by Google. Essentially, since you'd be storing your blog and content on their servers, then they can take it down or do whatever they'd like with it since they technically own anything you upload. That alone freaks me out. I work hard on this blog, and I want everything that I write to be owned by me.
Start by setting up a free WordPress account here.
Step 4: Install WordPress
Bluehost makes this really simple for you in their dashboard. In your cPanel, scroll to the section titled "MOJO Marketplace" and choose the "One-Click Installs" button. Then, click on the WordPress icon.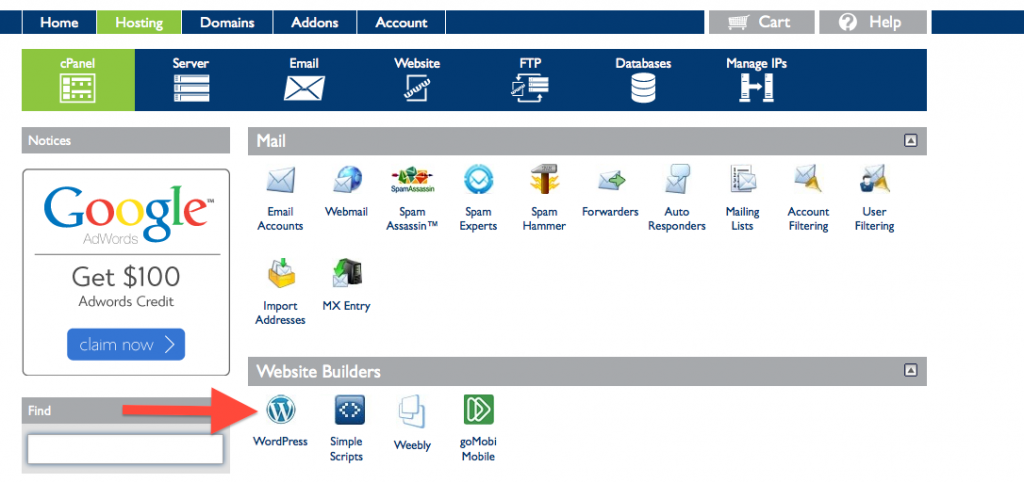 This will open the installation window. Click the start button to begin the installation process. Next, you choose where you want to install WordPress.

When you get to the Advanced Options, it gives you the option to assign a username and password to your WP dashboard. Make it a good username and password, because it'll be much more difficult to hack that way. Be sure that you have selected "Automatically create a new database for this installation".
Then click "Install Now."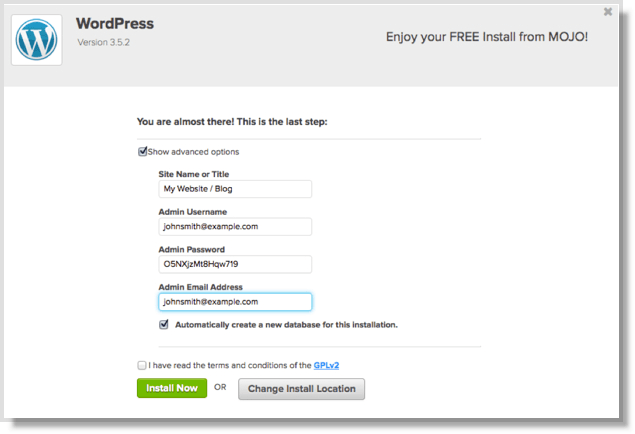 Now you can login to your WordPress dashboard and start setting up your site!
Step 5: Choose a theme
This is my favorite part about setting up a blog… getting to decorate it! I'm slightly obsessed with looking at themes, and I absolutely love daydreaming about fun new features I can put in. But the most important part is knowing what you want your site to look like, and then looking at corresponding themes.
While you're logged into WordPress, you can hover over Appearance in the side menu, and then click on Themes when it pops up. These are all of the free themes that come already installed in your WordPress account.
When you've found one you want to try, click Install and wait for it to download, and then click Activate to check out what it looks like live!
If you're just not finding what you're looking for you can always opt to purchase a theme. I think that the purchased themes look so much more professional, and put together. You don't need to spend thousands of dollars for someone to design your website, buying a pre-made theme is very affordable. I got my theme from Restored316 and I love their choices. I also like looking at Creative Market and Etsy for WordPress themes. So many options!
Whenever you buy a theme, the person who created it will provide detailed instructions on how to install it.
Step 6: Create your pages
Once you're set up, you need to get your pages made. I suggest an About page, a Disclosures page (mandatory if you're going to do affiliate linking of any kind), and any other pages that are going to be relevant to your blog.
Hover over Pages on your dashboard, and then click Add New.
Add the title and write your introduction or whatever is needed in the body. Add pictures, include your personality and humor, and keep it light!
Step 7: Create your menu
You need the menu so that people can navigate your site. You may not have many categories to put on at first, but you can put your pages up there too. As you add posts, mark them to the categories and they'll show up in your menu!
Hover over Appearance in your sidebar, and then click Menus.
Click on Create a New Menu, and name your menu. Then you can add pages to it from the box on the left, and once you have categories set up (you do this in your blog posts), then you can add those as well.
Step 8: Create content
This is the most important step, because you finally get to write! You really should have at least 10 posts written and published before you start sharing your blog. This will keep it interesting to your readers!
Hover over Posts in the sidebar, and then click Add New.
From here, you get to fill out the title, write the post, and schedule when you want it to go live!
Step 9: Set up your social media
One of the best pieces of wisdom that I've heard in the blogging world about social media is to pick one to focus on, pick two to automate, and forget about the rest. It's so easy to get consumed with all there is to do on social media! There's always things to share, people to respond to, and growth to attain… you'll drive yourself crazy if you try to do it all. Start small, focus on one at a time to begin with.
Make sure you keep your brand the same with all of your pages, so you'll be easy to recognize!
Step 10: Educate Yourself!
This is by far my favorite step. I'm one of those people that loves reading improvement books, and loves taking e-courses. But y'all, it makes sense to learn from those who have gone ahead of you! The best decision I ever made when it came to growing my blog was committing to the best course I could find- the Elite Blog Academy. This course was put together by Ruth Soukup from Living Well Spending Less, and it's amazing. My pageviews have increased 10x since I started this course only 8 months ago!
Ruth is launching EBA 3.0 soon, and you can get on the wait list here! I can't say enough amazing things about Ruth's teaching and her process for growing your blog. She really knows her stuff and has put together an incredible training that can help anybody grow their blog into a thriving business!
And bonus: READ! Read all you can, like this book, which is a wonderful resource. There's also this blueprint, and a free goal setting workbook!
Have you set up a blog before? What steps do you think are important to include?